American Engineering Principal Leads Discussion with NC Secretary of Transportation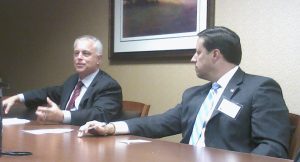 It is not "business as usual" at the North Carolina Department of Transportation. In Governor McCrory's first year in office, one of the top priorities for change was NCDOT. Gov. McCrory appointed a hard-charging, retired US Army brigadier general, Tony Tata, to revamp the department.
During a recent roundtable discussion on the Future of North Carolina Transportation, American Engineering's Scott Stone moderated a discussion which ranged from future construction funding sources, increasing customer service, and an NCDOT focus on supporting efforts to bring new jobs to North Carolina. A big undertaking underway for NCDOT and the legislature – changing the construction project funding formula.