Selected again as Town Engineer!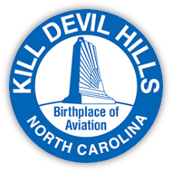 American Engineering is proud to announce that the Town of Kill Devil Hills has extended our annual on-call contract to provide engineering and consulting services as Town Engineer.
We have been serving as Town Engineer for the North Carolina Outer Banks beach town of Kill Devil Hills since 2005 – originally as ESI and over the past eight years as American Engineering. During this time, we have helped this community plan, design and construct a variety of different transportation, stormwater, water & wastewater, and other infrastructure projects. We are a true partner with this municipality which has allowed them to accommodate their growth and maintain their infrastructure despite changing needs, requirements, and an occasional tropical storm/hurricane.
American Engineering owes the cultivation of this relationship to the great leadership of Pete Burkhimer, who continues to assist on projects.
"A special thanks to Patrick, Emily, Pete, and all your staff for American Engineering's exemplary work for the Town of Kill Devil Hills and its citizens."